Royal Manchester Children's Hospital's chronic fatigue clinic needed an upgrade. For years they had gathered data from patients on paper diaries which proved time consuming, unreliable and unsecure. Employing exemplary UX design principles, we built a serverless patient app and clinician portal which addresses those challenges.
Historically, as part of their treatment plans, patients completed paper diaries detailing how they spent every fifteen minutes of their day. The process was laborious, often requiring many visits to collect and return diaries to the clinic.
Paper diaries open up potential security issues and present real-life problems that come with illegible handwriting. Furthermore, analysing weeks and sometimes months of patient data was clumsy, tedious and prone to human error.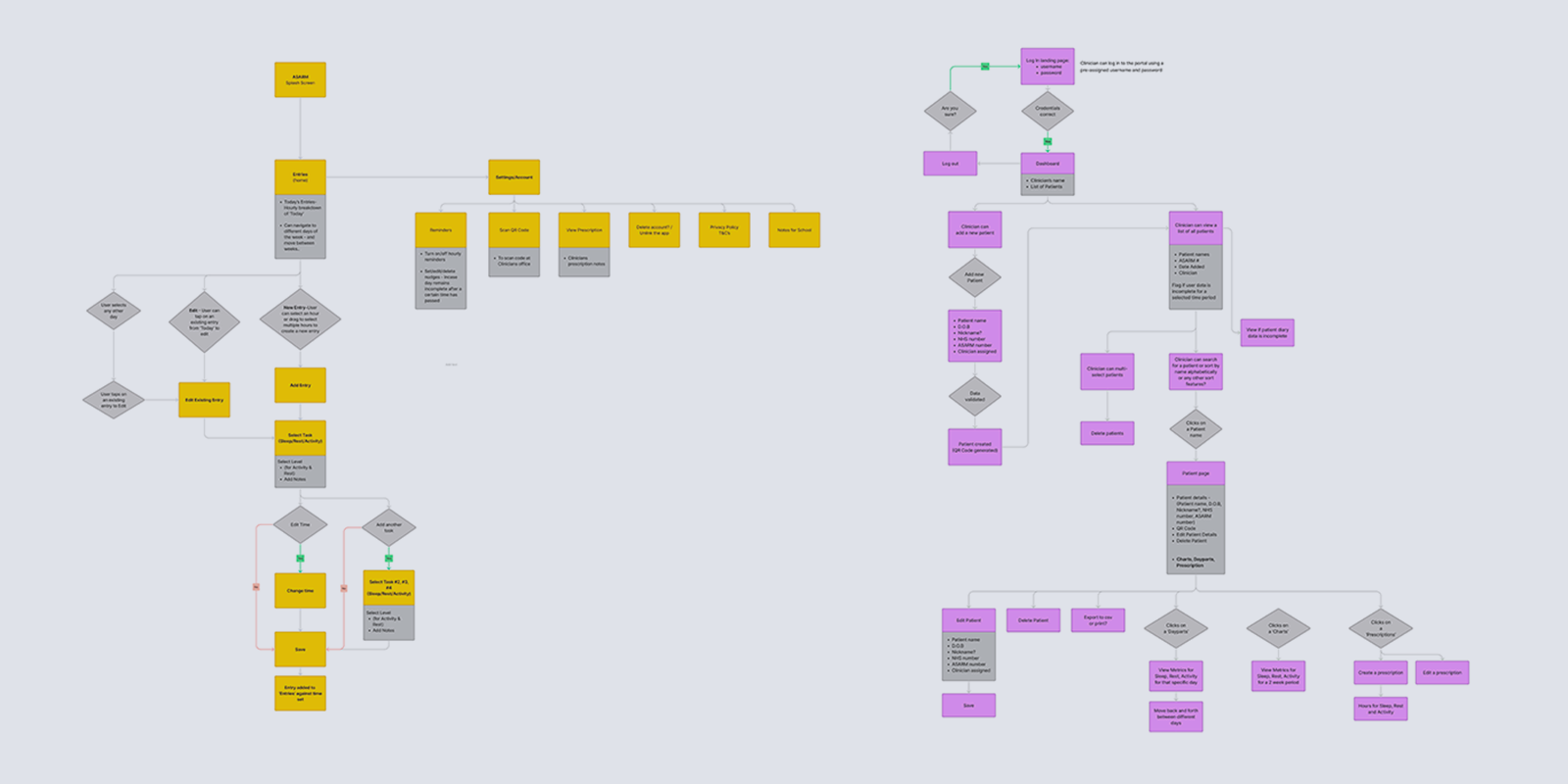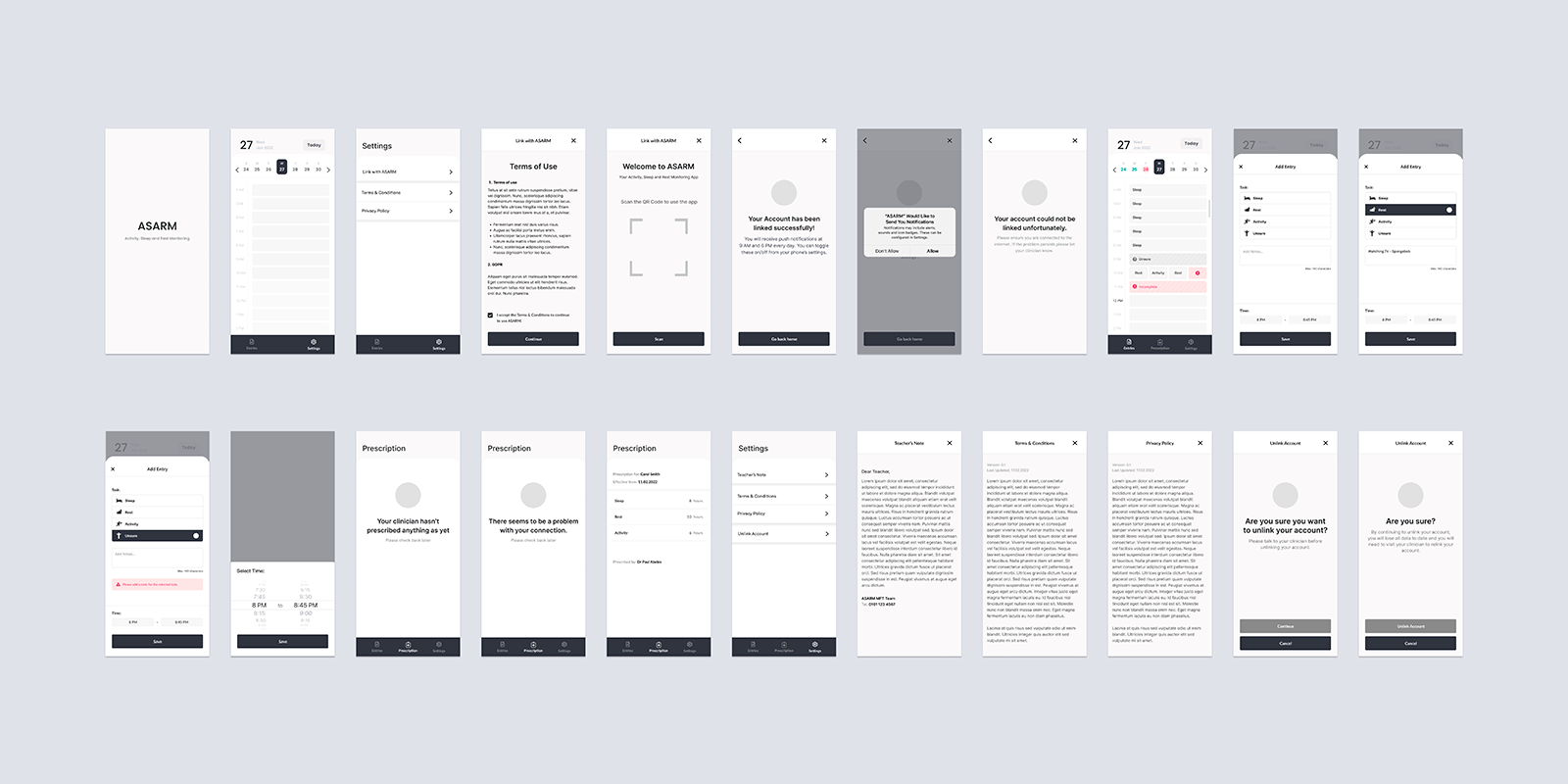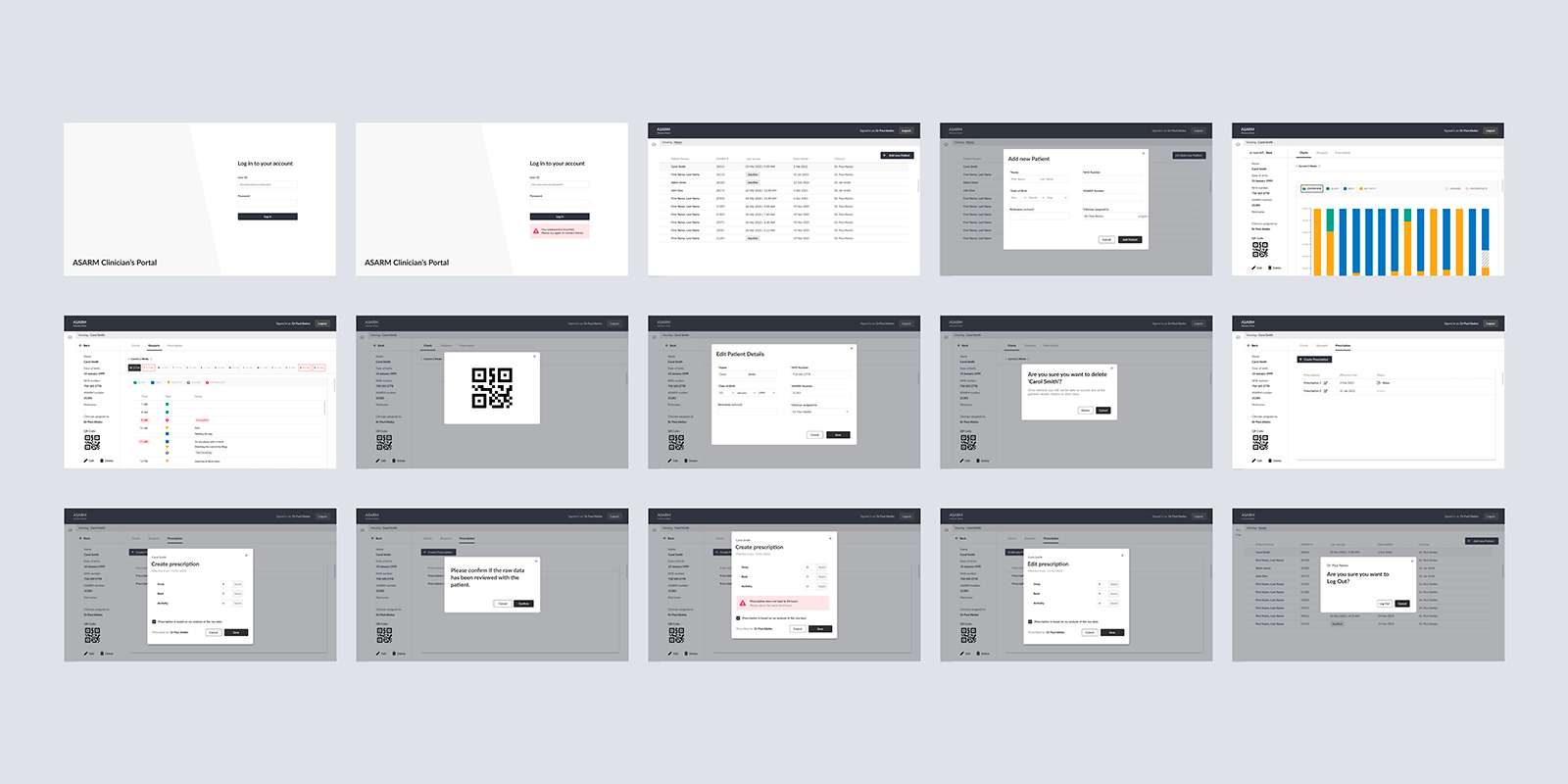 The ASARM app records levels of activity, sleep and rest. It allows patients to enter information without the need for a paper diary. That data is then delivered securely to their clinician who reviews the entries with the patient to ensure they fall into the right category. They then analyse it and make decisions based on the findings.
It's aimed squarely at young patients suffering from fatigue however the Trust plans to use it with long covid patients too.
ASARM will revolutionise the way RMCH's fatigue clinic operates. It saves hours of patient and clinician time and makes the process more accurate than it has ever been.
Challenge
Sign up
Signing up for anything opens up the possibility of losing users before they have even begun. And when you're dealing with kids… well you can imagine.
Response
Simplicity
We addressed the potential sign up problem by making the process simple and secure. At their first clinician meeting the patient simply scans a unique QR code that's generated on the desktop portal. The QR code triggers their account with no usernames or passwords and securely links the app and portal. Should they change (or lose) their phone, they can re-sync their account on a new device with the QR code. QR codes expire after 24 hours and can only be generated by the clinician portal further improving security.
Challenge
Data security
Personal data needs to be protected. Full stop. But when that data is medical, we must take additional steps to ensure its safety. The NHS is rightfully stringent when processing patient data and so that was our top priority.
Response
GDPR principles first
Our server architecture experts used AWS Lambda which made the app easier to develop, more efficient and importantly more secure. Lambda is a serverless technology which scales up on demand. It's economical and even has a much smaller carbon footprint than traditional technology.
A key principle of the UK GDPR is that of data minimisation, and that's where we started. The regulation states data must be adequate, relevant and limited to what is necessary. Therefore, information entered into the ASARM app is kept to a minimum and data is deleted after a 90-day period of inactivity. 
Where clinicians need to keep data for longer periods, they can download PDFs and CSV files from the portal. They can then upload this information to patient records in the NHS systems. The sign up procedure referred to above negates the need for passwords and usernames adding a further level of security.
Corporation Pop is registered with the Information Commissioner's Office (ICO) and is Cyber Essentials accredited. Before final commissioning, we penetration tested the app to ensure we'd hit every data protection marker — it passed first time.
Challenge
Design and user experience
From the outset design was crucial in making the application a success. ASARM's primary users are youngsters so we called in our UX designer to ensure they would remain engaged and find it easy to use.
Response
Clarity
We started with a simple colour palette, something which complemented the app's purpose in the fatigue clinic. We therefore chose pastel shades which imbue a sense of calm, as opposed to jarring primary colours.
Patients with autism spectrum disorder (ASD) often perceive colours as fluorescent; yellows are very stimulating and it's best to avoid them. Greens, blues, pinks, soft oranges and neutrals can be very comforting. Keeping colours and tones muted can quiet the mind and help create a feeling of calmness.
We used a dark colour palette to help prevent further disruption of the user's sleep cycle caused by blue light.
We designed the app to look simple and be intuitive to users. Time wheels make it straightforward to input chunks of time, prompts are subtle pulses of colour, and buttons are purposefully large and unfussy.
We also included a handful of things to help the smooth running of data collection. For example, users are required to add notes to their entries so clinicians better understand what their patient is doing. They can fill in chunks of time in advance if they know what they're going to be doing then. There is even a personalised 'teachers' note' so patients could easily explain why they have their phone out in class. 
The portal is equally uncomplicated. Clinicians can view data in charts and graphs and easily get a second opinion from colleagues. They can also issue automatically created prescriptions of recommended hours of activity, rest and sleep, directly to the user's app.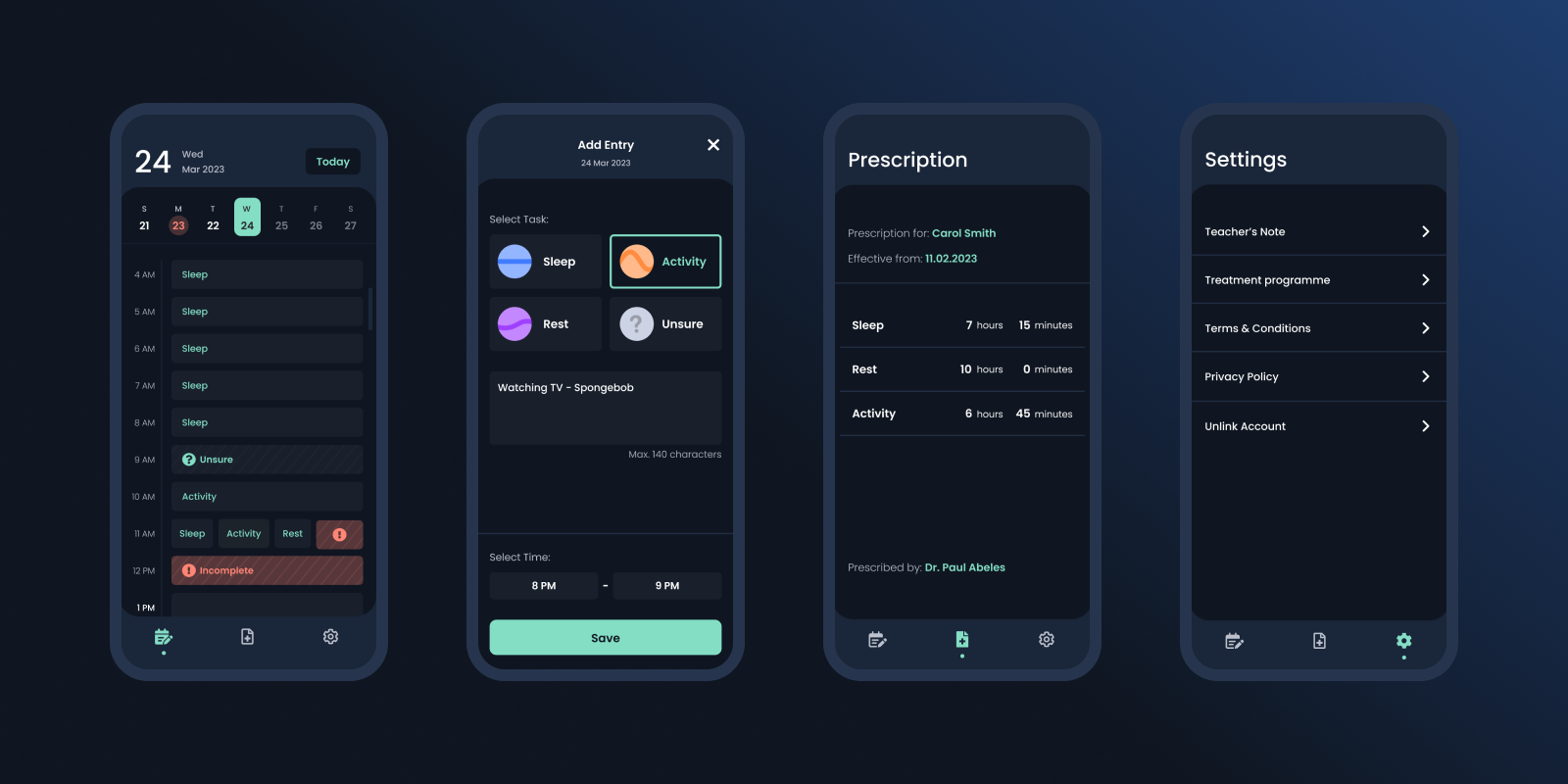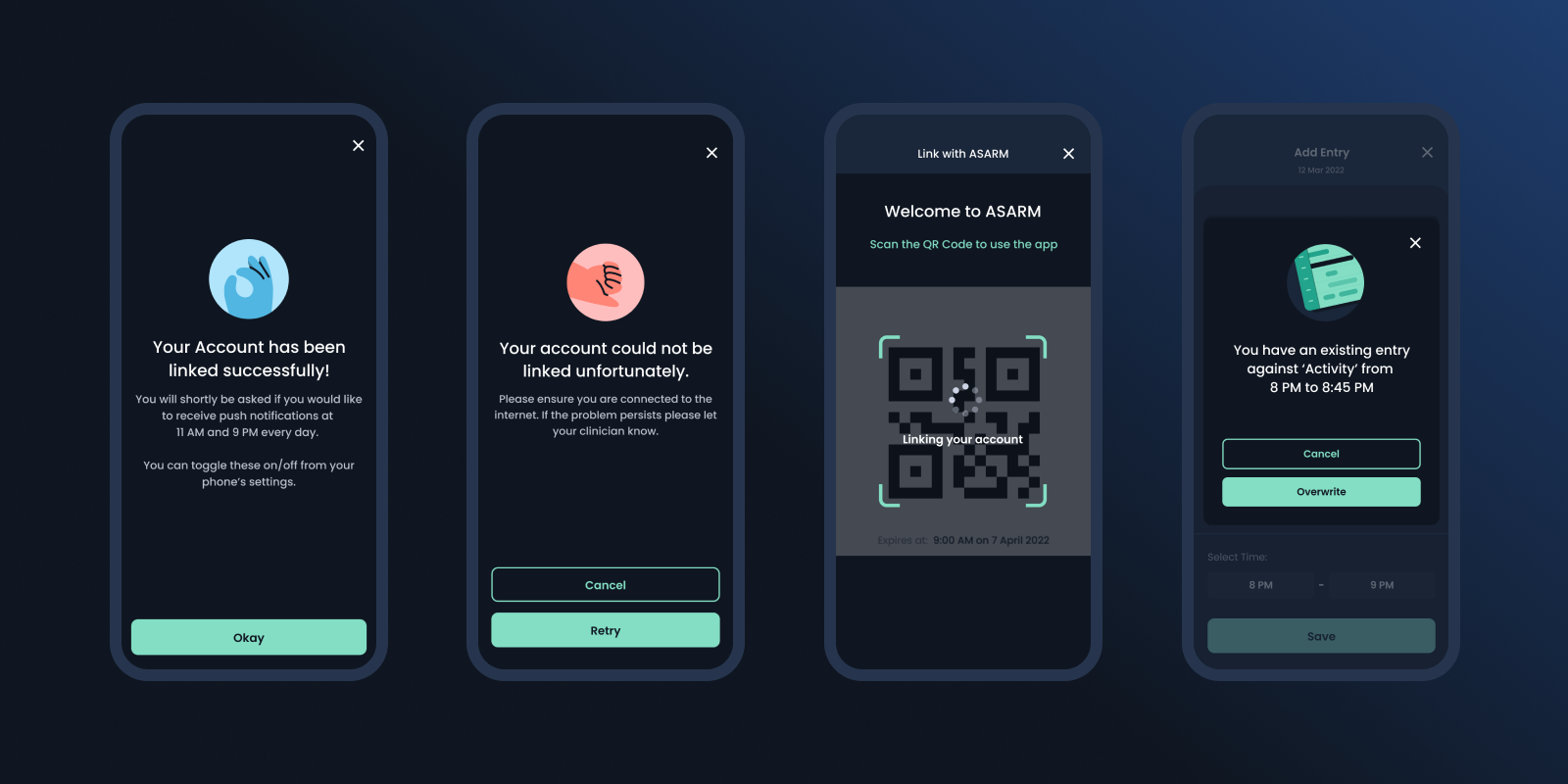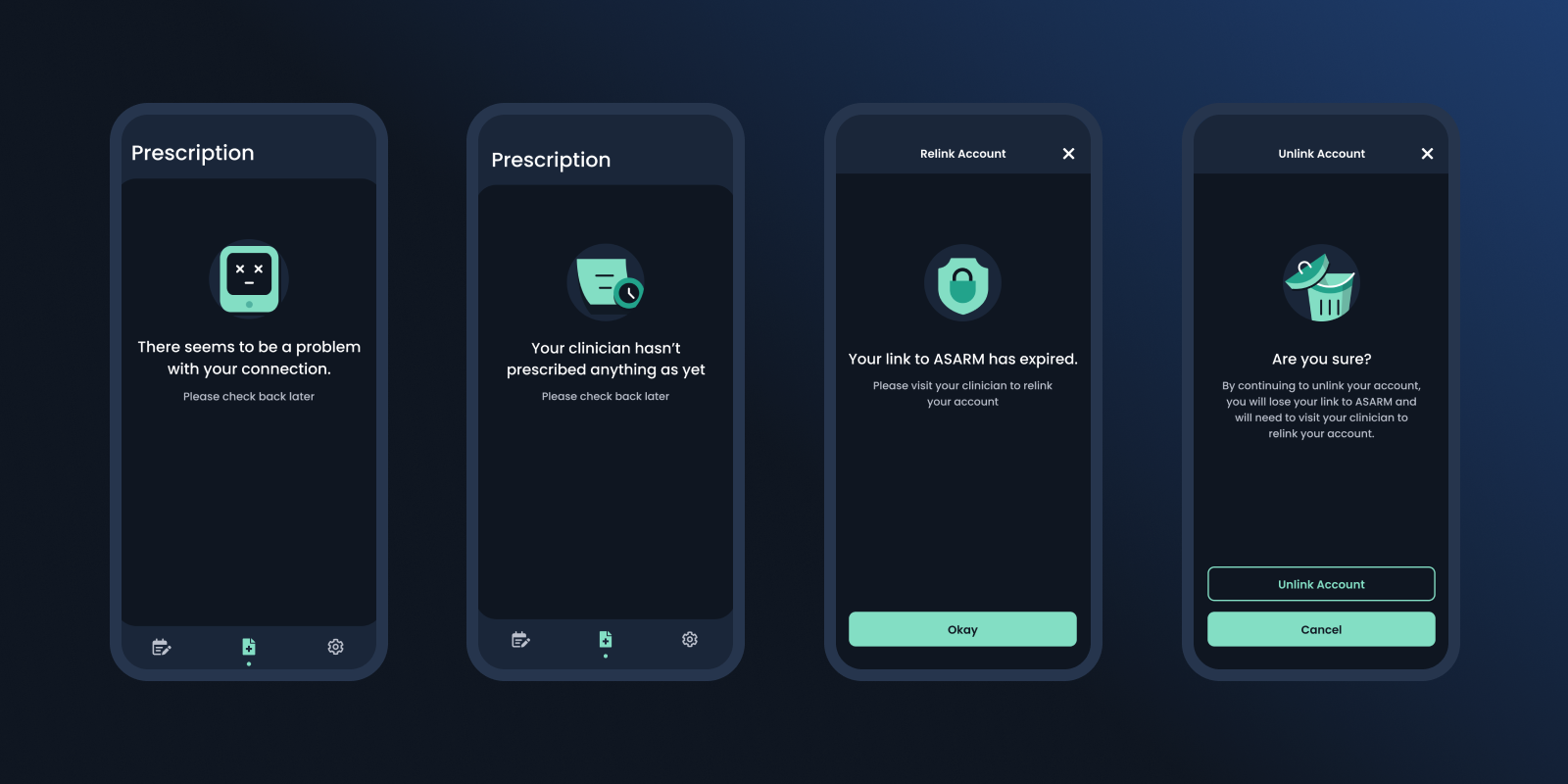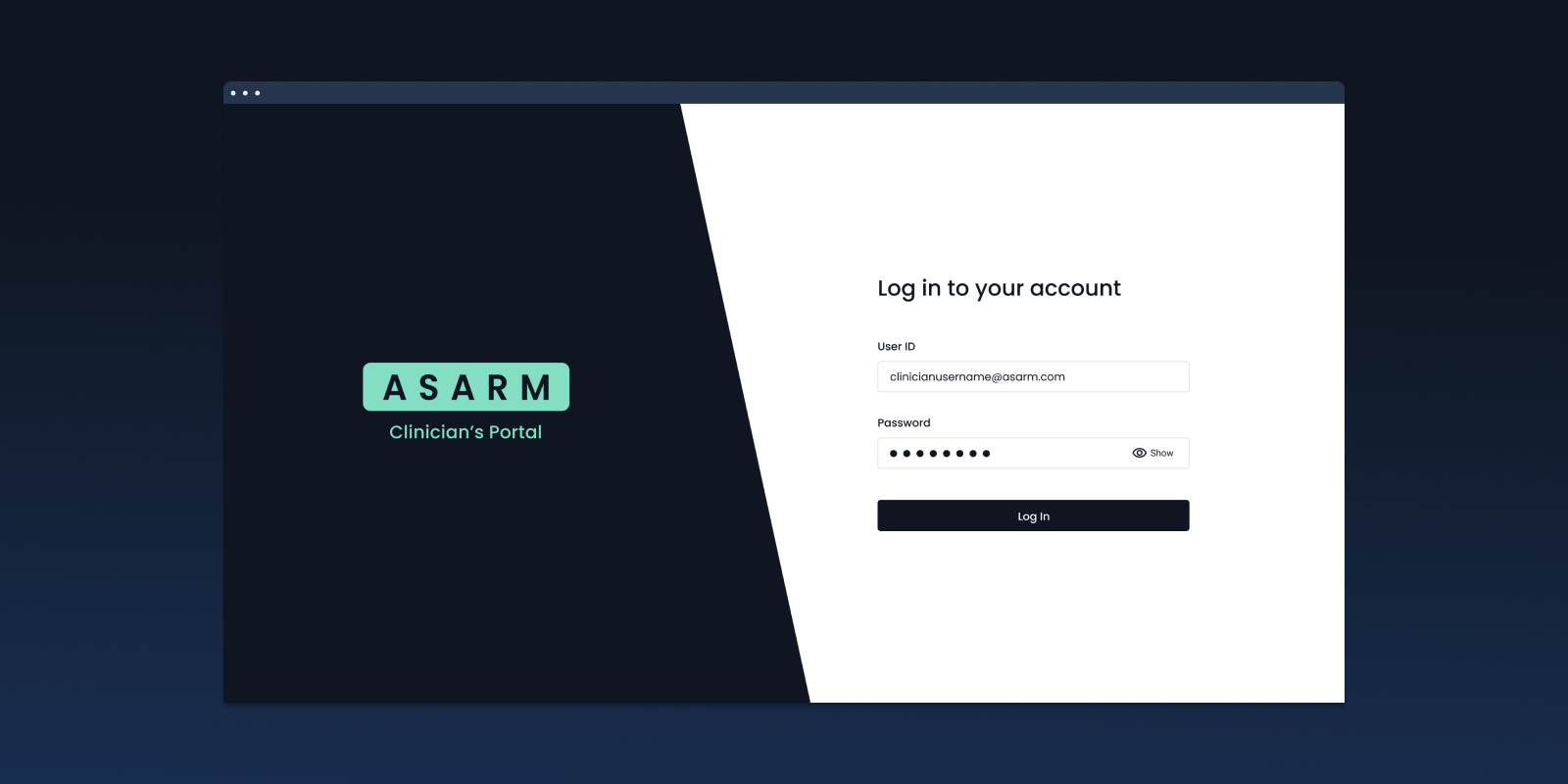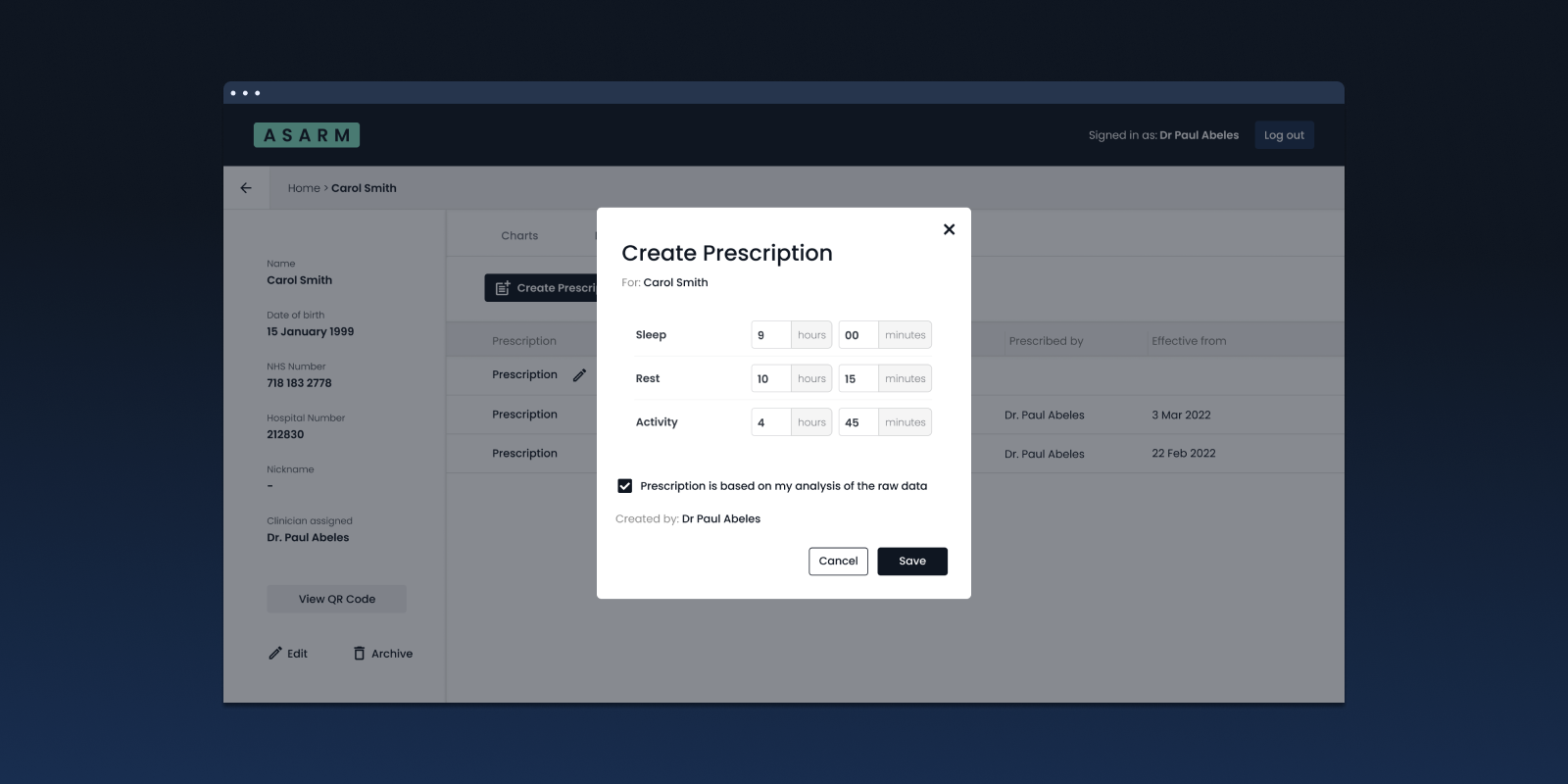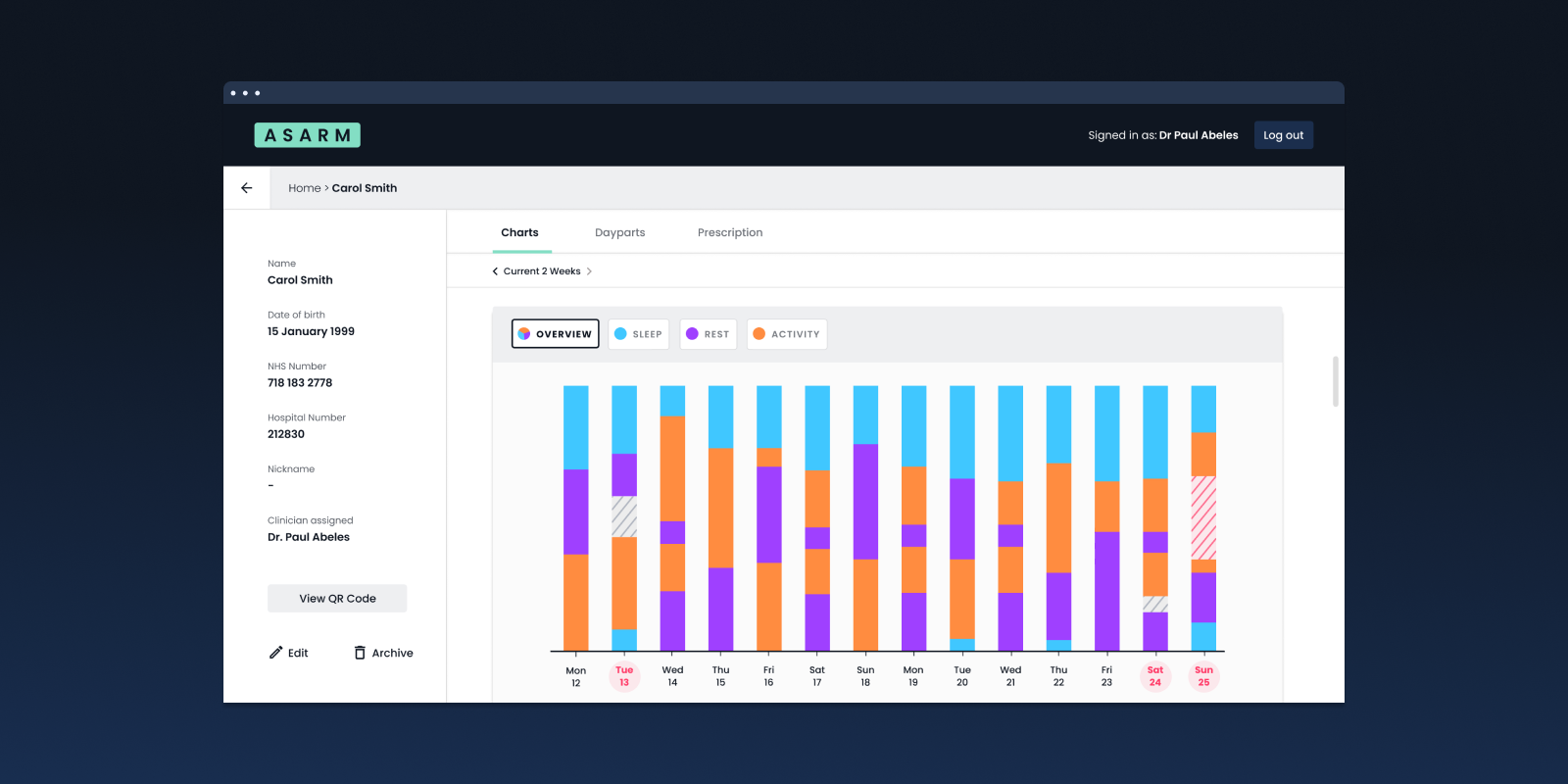 Outcome
ASARM packs a punch on a fairly conservative budget. It's a simple, safe and secure app which improves the collection of information and delivery of prescriptions. It makes the work of the clinic more efficient and more accurate, saving hours of time all round.
Coupled with the portal, the app is a powerful tool. It offers clinicians a range of reports, which improve insights into their patients' habits.
In the future, we envisage clinics across the country using the ASARM app to help manage their patients' conditions.
Key outcomes
Increased security of patient data
Improved visibility and reporting for clinicians
Intuitive and easy to use app for patients