Festival Republic (Live Nation) is the name behind many of the biggest outdoor live music festivals in the UK. Their catalogue includes events such as Download, Reading & Leeds Festivals, Latitude, Wireless and Electric Picnic. Naturally, each has a website with its own brand and functionality, which works hard to deliver information and sell tickets.
It's imperative sites can withstand surges in demand and easily be updated without revealing artist information ahead of official announcements. The websites must fit comfortably within brand guidelines, be simple to use, intuitive, and mobile first for easy onsite access.
Corporation Pop is proud to have worked with Festival Republic for more than half a decade. We design, build and maintain websites for nine of their biggest festivals, which service millions of customers annually. Our working relationship is such that we often feel like members of the same team. We work as one to offer an outstanding experience.
Infrastructure for high performance websites
When new artist announcements are made, and tickets go on sale, it exposes festival websites to huge surges in visitors . Because of this, we built these websites on specialist AWS architecture, which responds quickly and efficiently, preventing loss of service. We have created highly available, secure infrastructures which are cost effective, only auto-scaling to meet demand when it's needed.
Festival Republic commissioned Corporation Pop to refresh their Download festival website in 2017. Their old Drupal site was desktop-centric, difficult to use, hard to update, and really showing its age.
We began with an in-depth research and discovery phase. It was important to understand the website's users, so we interviewed a bunch of real-life, actual Download attendees. We wanted to know what they like, what they wanted to see, and how they engaged online.
Next we ditched the creaky old website and laid Drupal to rest, instead opting for WordPress. This immediately made it far easier for the team at Festival Republic to manage content. We then gave the website a full overhaul, freshening it and bringing the brand identity to the fore. Given that nearly 70% of the website's usage was through mobile devices, it was crucial we took this into account. 
The increases in traffic and engagement for the Download website speak for themselves.
Because of this success, Festival Republic asked us to weave our magic on the Reading & Leeds Festivals websites.
Reading & Leeds
Reading Festival is the jewel in the crown for Festival Republic. It's both their biggest capacity gig and the world's oldest popular music festival still in existence, dating to 1961. Then in 1999, the festival expanded to a second site and Leeds Festival was born.
Reading & Leeds Festivals are unusual because they share the artist lineup, so the websites we built have to manage that. 
There are three websites: the Reading & Leeds Festivals domain, which then directs visitors to the individual sites.
Behind them all sits the key content, in the form of artist line-up information. We then push that to each of the websites through a custom-built content bridge. This means there are no duplications, saving editors hours every year in content update time.
Latitude
When we approached the Latitude website, the new branding update was still just a concept. It was little more than colour-ways and typography. So, we ran with these core elements, delivering a full design and build with the same robust back end they expected from us.
The target demographic for Latitude differs from the rest of their portfolio. Latitude is a family festival where music isn't necessarily always top of the bill. Comedy, events, food and drink, and accommodation are equally important to Latitude customers. For this reason, we took a holistic view when designing the website and gave these elements almost equal precedence.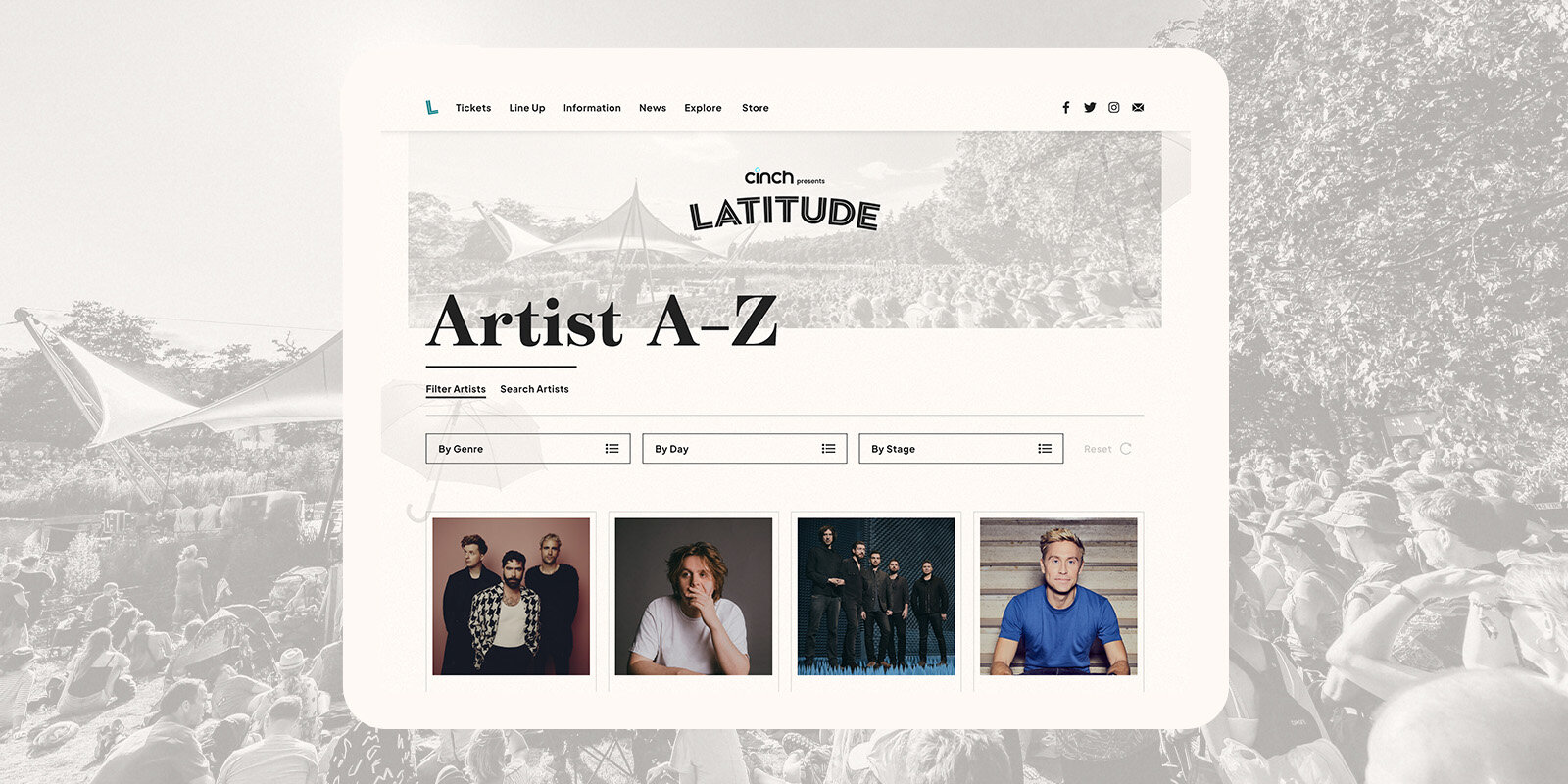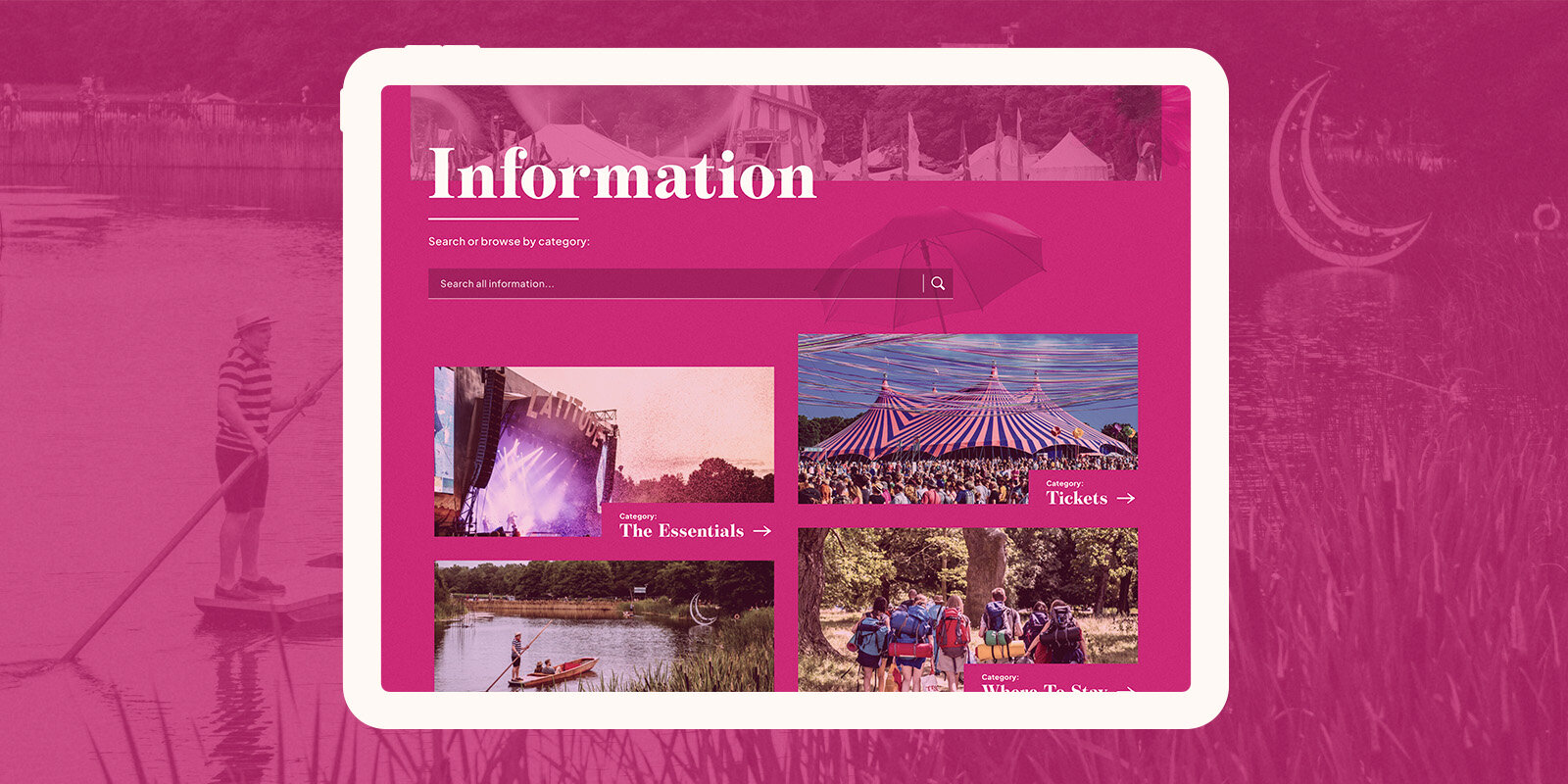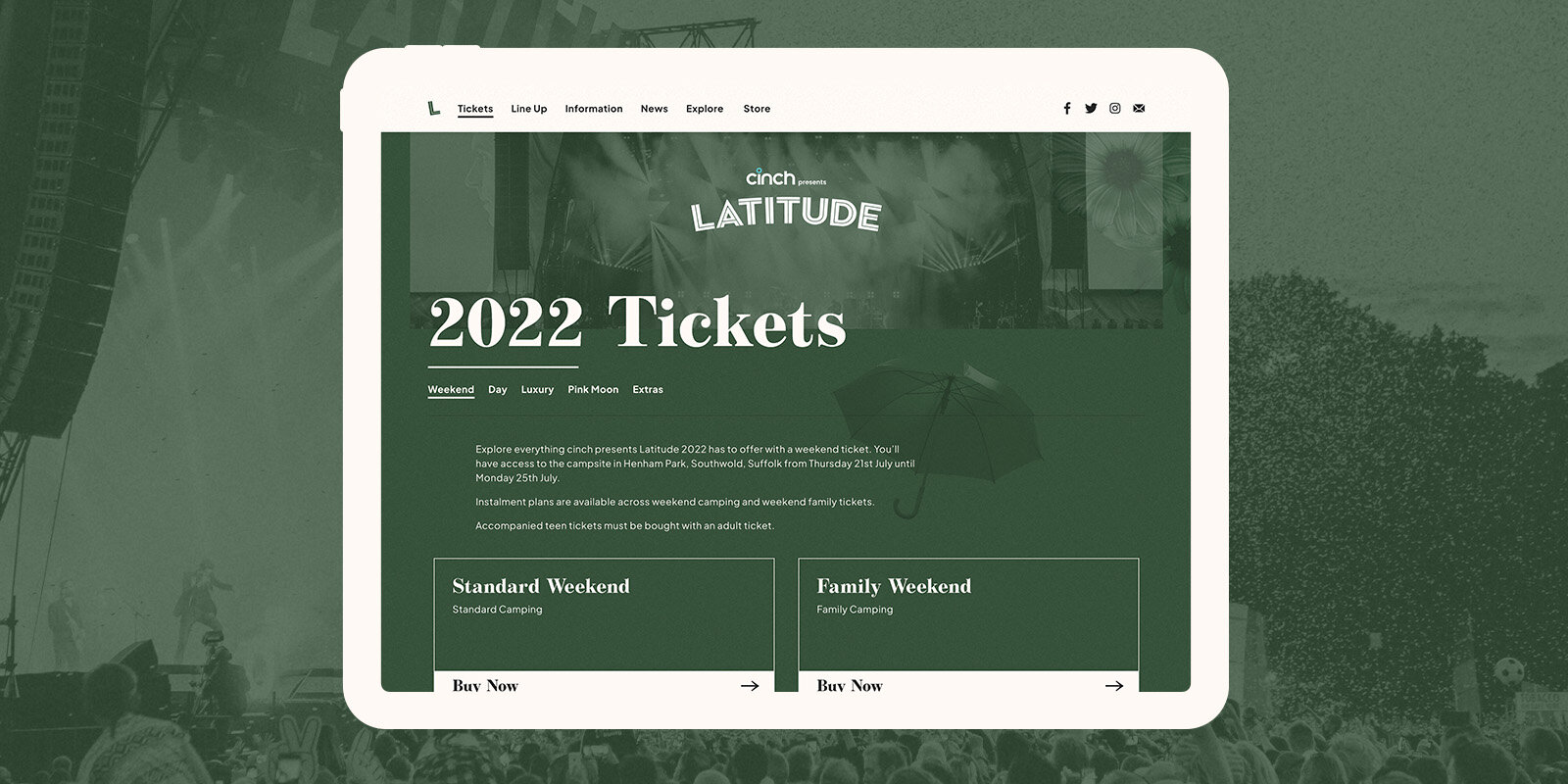 In 2022 Wireless took place across three sites including the original at Finsbury Park, with Crystal Palace and Birmingham as additions to the roster. The main Wireless domain directed users to the newly designed event sites and from there, they could find line-up and event information, news and, of course, buy tickets. 
Each of the three websites was faithful to brand guidelines, yet visually different. We primarily achieved this through a design which uses different colour-ways.
The underlying code base for each site was exactly the same, but with configuration options built into the CMS. This meant editors could switch between colour schemes and cross-link directly between sites. So, from a technical perspective, this meant they could seamlessly roll out features and changes across all three sites consecutively.
Electric Picnic
Electric Picnic is Ireland's largest gathering of music and arts; many comparing it to Glastonbury. US magazine, Billboard called it:
"A magnificent rock n roll circus, a textbook example of everything a festival should be."
We were obviously thrilled to take on their website, putting into it everything we'd learned across Festival Republic's other sites. The difference with Electric Picnic is that we provisioned locally on AWS Ireland infrastructure, as opposed to AWS UK.
Smaller festival websites
Across the years, we've also worked on several of Festival Republic's smaller capacity events, including Community, Rize and Gunnersville festivals.
No matter what the size of either the website or the festival, the customer experience when using it is paramount. Our attention to detail ensures that and the figures reflect it.